演讲人

介绍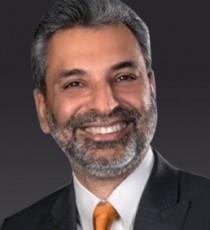 Dinesh Bahal
集团副总裁
演讲主题:美光3D先进技术与市场应用
演讲语言:英文
Dinesh Bahal is corporate vice president of the Consumer and Components Group at Micron Technology. He is responsible for consumer products and strategic pricing.
Prior to Micron, Mr. Bahal most recently served as vice president of product management at Western Digital Corporation where he directed global product lifecycle management for retail-branded products including G-Technology, SanDisk and WD. The product portfolio he managed included flash memory cards for smart phones, cameras and tablet computers, as well as USB flash drives and solid state drives. Dinesh worked across organizations to develop and implement revenue and market share gains for emerging markets.
Prior to Western Digital, Mr. Bahal was the vice president of alliances for JAPAC at Oracle following the company's acquisition of Sun Microsystems. At Sun Microsystems, he held a variety of positions including vice president of industries and partners for emerging markets, vice president of the Internet-industry/hyperscale practice and senior director of international sales. Prior to that, Mr. Bahal was at KPMG Peat Marwick where he consulted with leading companies on process innovation, technology strategy development, software and hardware selection, and the management of large technology implementation projects.
Mr. Bahal earned a bachelor's degree in science from Delhi University and a master's degree in business administration from XLRI in India.

公司

介绍
美光
Micron Technology is a world leader in innovative memory solutions. Through our global brands — Micron, Crucial® and Ballistix® — our broad portfolio of high-performance memory technologies, including DRAM, NAND, NOR Flash and 3D XPoint™ memory, is transforming how the world uses information. Backed by 40 years of technology leadership, Micron's memory solutions enable the world's most innovative computing, consumer, enterprise storage, data center, mobile, embedded, and automotive applications. Micron's common stock is traded on the Nasdaq under the MU symbol. To learn more about Micron Technology, Inc., visit micron.com.